I HAVE COME TO TELL THE WORLD THAT GOD EXISTS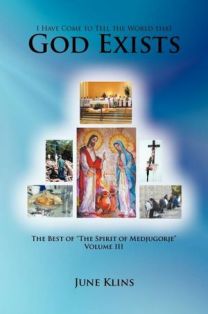 This book will truly touch your heart and lift your spirits. Look what people have said about this new book:
"I am enjoying your book immensely. It's one of those 'very very hard to put down' books. I can just imagine the Holy Father burning the midnight oils in the Vatican apartment reading his copy you sent him!! It's no wonder he looks so tired lately!" ~ Judy from England
"Set aside a good chunk of time because once you start reading this book, you just can't stop! In a world of darkness, where everyone asks, "Where is God?" the answer is: He's right here, right now. He's with us, and He's definitely with the people who share their beautiful stories of miracles and hope in this book!"~ Donna from Canada
"I brought it to work today and people are asking me where they can get a copy – please forward the information so that I can share." ~ Kathy from PA
"Wow, my husband and I are nearly fighting over the book, can't put it down! I plan to get Volume I and II, also."~ reader from Canada
"My mother finished your book and loved it! I'm reading it now and it is truly wonderful. In fact I'm going to recommend that the first- timers on our trip read it before we go. It's a wonderful recap and source of info. that is must reading !" ~ Dennis from PA
I really love your new book. I love reading a story every night and then thinking about it before I go to bed. ~ Carole from Michigan
Can be ordered from Amazon.com. By clicking this link you will go directly to the book
http://www.amazon.com/Have-Come-Tell-World-Exists/dp/1467068578/ref=tmm_pap_title_0?ie=UTF8&qid=1322377874&sr=1-4
Can be ordered from Barnes & Noble.
B
y clicking this link you will go directly to the book

http://www.barnesandnoble.com/w/i-have-come-to-tell-the-world-that-god-exists-june-klins/1107735791?ean=9781467068574&itm=1&usri=best+of+spirit+of+medjugorje+volume+3