Featured article from November's Spirit of Medjugorje
"The Testimony of Fr. Paul Nomellini"
By June Klins
Last month, I was led to an interesting "Fruit of Medjugorje" testimony that aired on Marytv.tv on October 29, 2012. The testimony is that of Fr. Paul Nomellini, who is a retired priest of the Diocese of Marquette, Michigan, now living in Wisconsin.
Father began by admitting that in 1990, when he was pastor in a small town outside of Escanaba, MI, he was very skeptical of the events in Medjugorje. Then someone offered him a free trip.
At the beginning of that pilgrimage, Father said he was still doubting and questioning. Then one morning his group climbed Cross Mountain before sunrise. They prayed the Stations of the Cross on the way up, and just as they got to the top, the sun was beginning to rise. Father was sitting on a big rock by himself watching the sun rise, when he noticed the sun began to vibrate and pulsate. He did not want to believe this. Then as the sun rose in the sky, the sun became a "Host" and had a cross on it. Then the sun pulsated towards Father and it became a gold Monstrance. He also saw rainbows. Father said, "As I sat there still doubting, I heard a voice say (and I normally do not hear voices), 'Paul, if you think you're going straight to Heaven, forget it.'" Father looked around and there was no one near. He said he now believes the voice was his guardian angel. After descending the mountain, as he was praying about this, he heard the voice again tell him not to go to Mostar with his group the next morning. Obedient to the voice, Father stayed back and spent time praying the next day in St. James Church by the statue of Our Lady. While he was praying there, a nun invited him into the side chapel where the apparitions used to take place. While praying there, the voice he heard before talked to him about becoming a Marian priest. Father said this was the point where his conversion began, and from that time on, he began promoting and witnessing to Medjugorje. Months later, he joined the Marian Movement of Priests.
That fall, Father began having a monthly holy hour to pray for life, vocations, priests, etc. They prayed the Rosary, read Our Lady's messages and the commentaries, and would conclude with Benediction. Father said it "exploded," in a time when the Church had gotten away from devotions like this. He continued the monthly holy hour until his retirement 12 years later.
In 1995, Father Paul returned to Medjugorje with his sister, Lori, who had had a conversion experience after having had an abortion as a young woman. (Father talked extensively on her conversion, but that is another story in itself.) Father was invited to Ivan's apparition one evening in the chapel to the left of St. James Church. They prayed the Rosary and at 6:40 Ivan had his apparition. During that time, Father heard that voice again and it said, "Pray for Michael Nomellini." Father thought, "Who in Bosnia-Hercegovina, in a chapel in Medjugorje, had ever heard of Michael Nomellini?" Father has hardly any memory of what happened after the apparition except that as he was exiting the chapel, Ivan put his arm on Father's shoulder and said, "Father, do what you were told." Father went back over to the church and noticed people from his group surrounding his sister, who was crying. Lori looked at him and said, "Who is Michael Nomellini?" Father did not say in his testimony, but apparently she got the same message that he did.
Father then explained to his sister that Michael Nomellini was their grandfather, their father's father. Lori asked Father if he knew their grandfather, to which Father said, "No." Their grandmother had kicked him out of the house when they were young because he was an alcoholic and a wife and child abuser.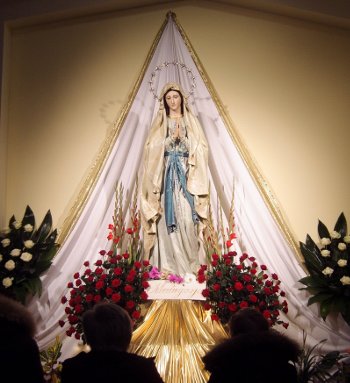 Statue of Our Lady in St. James Church
When Fr. Paul and his sister returned after the pilgrimage, they did some research on their grandfather. They found that he and their grandmother had come to the United States from Italy when they were young. They had three sons and the last one was born blind. Neighbors surmised that the blindness may have been caused when their grandmother was beaten when she was pregnant. Finally she had enough and kicked him out so she could raise her sons in safety. Father said that when they were growing up, no one ever spoke about Michael Nomellini. He said that growing up, he never even realized he had a grandfather living in the same town. Father and Lori went to the courthouse and found that Michael had died in the summer of 1951. He died of cirrhosis of the liver on a poor farm, for people who have nothing. BUT, he was seen by a priest before he died! The reason Father knew this was because he checked the records of churches and found that he was buried from St. Joseph Church in Hancock, MI. He checked with the county and found that he was buried in a cardboard box with no one present except the funeral director, a few men who carried his body, and the priest who said the Mass.
Father said, "Lori and I came to this conclusion ...My sister said, 'Paul, if he died in 1951, and we're being asked to pray for him in 1995, if he was in Heaven, he didn't need prayers; if he's in Hell, we can't help him. He's been in Purgatory for 44 years!' From what we can gather, he was a bad man. I won't say evil, because somehow or other, he was forgiven on his deathbed. And he was buried from the church after receiving the Sacrament of Extreme Unction [now called the Sacrament of the Sick]. But having apparently – and I'm being judgmental here – not prayed all his life, he was in Purgatory. I became a believer in Purgatory, truly a believer in Purgatory." Father said that beginning in 1995, he and his sister began praying that Michael Nomellini would be welcomed into the joy of Heaven.
Father then spoke extensively on Lori's later trial with ALS (Lou Gehrig's Disease). Father said, "Because of her Medjugorje experience she totally accepted ALS... She never complained ever! She would play Medjugorje tapes of Miki singing. She would pray three Rosaries a day with
Sr. Emmanuel. She became an inspiration to all of us." Father continued, "As she gradually went downhill, lost all use of her body, was fed through a tube, all she could say to me when she could speak, was, 'I'm offering it up for the Poor Souls in Purgatory to get Michael Nomellini to Heaven.' She was the happiest person. It was the greatest love story that I ever had."
Lori died on May 19, 2007. Prior to her death, she had asked her friends to wear pastels instead of black to her funeral because she wanted it to be a happy occasion, like a wedding. "It's my new birthday." Fr. Paul said her funeral was the happiest, most joyful funeral he ever attended.
Whether Lori's reunion with her grandfather, Michael Nomellini, was that day or would follow later, for sure he is thankful for all her prayers and suffering.
"Today I wish to call you to pray daily for souls in purgatory. For every soul prayer and grace is necessary to reach God and the love of God. By doing this, dear children, you obtain new intercessors who will help you in life to realize that all the earthly things are not important for you, that only Heaven is that for which it is necessary to strive." (Our Lady, 11/6/86)
Editor's note: You can listen to Fr. Paul's testimony including the story of his sister's conversion and final days by going to Marytv.tv. It is Episode #31 in the Fruit of Medjugorje programs.