Featured article from October's Spirit of Medjugorje
Finding Our Rainbow
By Nicole Dice
Each of us carries a cross throughout our life. Sometimes our cross is heavy, but at other times the load is light. In November 2015, the load of my cross was overwhelming, and I found myself searching for God's help in lightening it. My newborn son, Daniel John, passed away shortly after birth due to a chromosomal mutation known as thanatophoric dysplasia. My husband and I knew the outcome throughout our pregnancy, but nothing could ever prepare us for burying our newborn baby.
For the months following my son's death, I leaned on my faith and sought support from friends and family. But my soul was searching for peace that I could not find. Several of my friends had taken pilgrimages to Medjugorje, and I considered going there to find whatever it was I needed for peace. I prayed about it and asked the Blessed Mother to show me if She wanted me to go on my own pilgrimage there.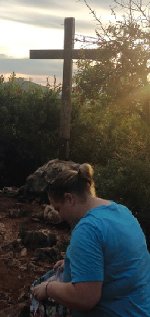 Marie Murphy

In January 2016, the Blessed Mother sent me my sign calling me to Her in Medjugorje. There was no denying Her call to me, so I listened to Her and began the process of joining a pilgrimage that summer. At this point, I still did not know what it was that I was seeking, but I trusted in my faith and Our Lady. She knew the pain of watching Her Son die and She knew what would heal me.
When I left for my pilgrimage in June 2016, my heart was open and my goal was to be present in every moment of the journey. I wanted the Blessed Mother to help heal the pain from losing my son and be in a place where I could think about my path from here. The first few days other people were seeing amazing signs and I wondered if the Blessed Mother would speak to me in a special way. The peace felt in Medjugorje was filling my soul and I was content just being in such a spiritual place.
The one thing my soul was yearning for was to be on Apparition Hill. On the third day of the pilgrimage, a small group of us walked up Apparition Hill to pray before sunset. My heart felt so full as we walked and prayed, that I was not expecting all the beautiful messages the Blessed Mother was about to give me.
As we drew near to the wooden cross on Apparition Hill, the members of my group approached it to pray and look at it. I felt compelled to stay on the path because something was keeping me from walking over. I looked at the cross wondering if I should also go over, and there it was, my first sign. To the left of the cross was a small piece of a rainbow. Seeing that rainbow was the Blessed Mother telling me that the storm is passing. It was my sign that I will begin to find some peace in this storm.
A little further up the path we saw the sun spinning in the sky. It was so beautiful between the trees, and I felt in that moment the peace God wishes for us to have in our souls. As we continued walking, I prayed for myself, my husband, and my family. I prayed that we would know the plan God has for Daniel's life and make a positive impact for others through his life. I also prayed for God to bless us with another child so we would not have empty arms the rest of our lives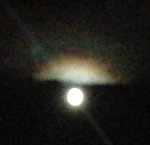 Moon with the rainbow over it
Later that night, at Eucharistic Adoration, I thanked Jesus for His love and His mother's presence around us. I prayed that the Lord and the Blessed Mother would bless my womb and give the opportunity to have a healthy baby. When leaving Adoration, I noticed many people snapping photos of the sky and one of our group members who knew my story stopped me, telling me to look up. In the sky was the moon with a beautiful rainbow above it. My heart was so full because I knew my prayer of having another child would be answered. The rainbow showed me that I would have my "rainbow baby" (a term for a baby after the loss of a child).. The rest of my pilgrimage filled my soul and sent me home with a new purpose of bringing people together through Daniel's life. My husband and I began a non-profit we call "Loving Daniel", which raises money to give other families support who suffer infant loss. We spread our faith and love to others every day through Daniel's life and God's plan for him. My Medjugorje pilgrimage gave me the peace I needed to turn my sorrow into something positive for others around me.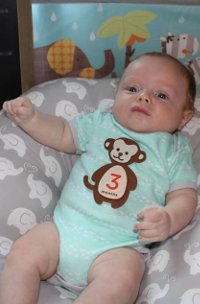 Baby William Emmanuel

I have spoken to many people about my pilgrimage and use my experiences there to bring hope to others. The most amazing outcome of my pilgrimage happened almost a year later when my husband and I welcomed our "rainbow baby". Just under a year after my pilgrimage, we were blessed with another son who we named William Emmanuel. We want our son to know what a blessing he is to us and that God is always with him. The peace we see in his eyes shows us that he knows God and he knows his big brother is watching over him. We will always hold Daniel in our hearts, often asking him to intercede for us. We praise God and thank the Blessed Mother for interceding for us and bringing our rainbow. Our work of love in memory of Daniel will continue with William and show him the love the Blessed Mother has for us.
Editor's note: Nicole lives in Uniontown, PA. Nicole was on my 2016 pilgrimage to Medjugorje. When I asked her to write her story for the October issue, she mentioned that October is Infant Loss Awareness Month! What Nicole did not realize is that at the wooden cross where she saw her first rainbow, Our Lady appeared to Marija in tears, "near a cross with rainbow colors" on June 26, 1981 and said, "Peace, peace, peace! Be reconciled! Only peace. Make your peace with God and among yourselves. For that, it is necessary to believe, to pray, to fast, and to go to Confession."