Featured article from October's Spirit of Medjugorje
Expect a Miracle
By June Klins
It was a big leap of faith to bring a movie to our city, sight unseen, but I could not say "no" to the inspiration I got on my June 2016 pilgrimage to Medjugorje. Sr. Claire Marie, who has a special gift of knowledge, told us to bring Apparition Hill, and I felt this was a confirmation of something that had already been laid on my heart. It was already in the works when I arrived home, thanks to one of my friends who volunteered to take this on. The date was set for September 15, the feast of Our Lady of Sorrows.
I expected a surge of ticket orders after I wrote about it in our August newsletter. But that did not happen. Most days there were no orders or, at most, one. I truly thought that at least our local subscribers would show more interest.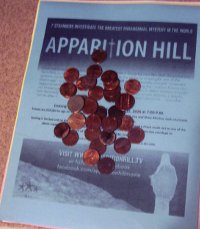 On August 11th, I attended a Mass for healing, and I was granted permission to bring flyers for the movie. I promised to pick up the extras before I went home. When I went to retrieve the remaining flyers, there was a pile of pennies sitting on the flyers. It is no secret that I find pennies often. I call them "pennies from Heaven." Sometimes they seem to be a "kiss" from Heaven, and sometimes they are a sign to trust – "In God we trust." I usually find one at a time, maybe two, but never a pile like this one. I took them with me to show some of my friends and they agreed they were meant for me. (I always donate them to charity when I get enough to cash them in.)
As a retired math teacher, I am attuned to numbers, so when I got home, I counted the coins. There were 30 pennies + 2 nickels + 1 coin that I thought was a Chuck E. Cheese token. So the number of "coins" was 33 – a number which is associated with Jesus. The pennies and nickels added up to 40 cents – a number associated with a time of waiting. So the message I got from the coins was to wait and Jesus would help us fill the theater for our movie.
A couple of days later, something made me look at the coin which I thought was a Chuck E. Cheese token. Imagine my surprise when I saw the word "Cinemark" on it! It was a game token from the movie theater where our movie would be playing! What are the odds of that???!!!
As expected from my sign about "waiting," tickets sales continued to trickle in a little at a time. Four days before the showing, we still had 65 seats left out of 314. Not bad, but we were hoping to fill more seats. I was in awe, therefore, during the few days left before our movie, when God suddenly put people in my life I had not seen in years – people who wanted to see this movie once I invited them!
We were not allowed to sell tickets at the door, so we took orders on the phone and trusted them to send the money in later. Hours before the movie was to be shown, when I grabbed what I thought was an empty envelope to put a lastminute ticket in for someone, I found in it a little cloth that said, "Expect a Miracle." There was a hand-written note with it that said the cloth had been touched to a relic of the True Cross. I had picked up these envelopes at church where people leave items for people to take for free, but I thought all the envelopes were empty. I love how God speaks to us in these unique ways!
My Bible calendar verse for that day read: 'It will come to pass in the last days,' God says, 'that I will pour out a portion of my spirit upon all flesh. Your sons and your daughters shall prophesy, your young men shall see visions…' (Acts 2:17). How appropriate was that for a movie about apparitions???!!!
As predicted on August 11th, our movie showing turned out to be very successful. Based on leftover tickets, we had 300 attendees! The comments I heard from those exiting the theater were all very affirming. They loved the movie and were deeply moved. Whether that was the "miracle" I was to expect, or there is more to come, remains to be seen.
The next day, I continued to receive positive messages about the movie. A teacher wrote: "That movie was absolutely phenomenal." A man wrote: "That was an awesome movie. I never cried so much during one movie." One lady, who drove 1 ½ hours to see it, is going to bring it to her city now! This film was more than I ever expected!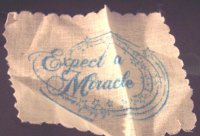 We were blessed to have one of the cast members, Jill Mazowiecki, at our screening. She shared with us that it's possible this movie could be nominated for an Academy Award! That would help spread Our Lady's messages to a lot more people, so please pray and fast for this. Also financial help is needed. You can read more about this exciting news at www.indiegogo.com/projects/help-apparition-hill-get-seen-by-millions-films-religion#/.
A few days after the movie, another person who was bringing the movie to his area shared with me his concern about his slow tickets sales. When I was writing to him about our experience, it dawned on me that there were exactly 40 days in between the day our August newsletters containing information about the movie were delivered locally and the day of the movie!
Another little God-incidence was that the ticket number printed (purposely) on all movie tickets was M05131917, which represents the date for the first apparition at Fatima on 5/13/1917. What is interesting is that we originally were scheduled to have Theater #5, but because the seating capacity was decreased when they remodeled that theater, they had to move us to the larger theater — Theater #13! Our Lady said that what She started in Fatima She would complete in Medjugorje! Let's help this to happen and soon!