Featured article from February's Spirit of Medjugorje
"The Heart is the Center of it All"
By June Klins
On May 19, 2014, the testimony of Marie Murphy aired on MaryTV's "Fruit of Medjugorje" program. I made a note for myself at the time to transcribe her story for our readers, but have not felt prompted to do so until now. Perhaps there is someone new on our mailing list who needs to read her story.
Marie began her testimony by telling a little bit about herself. She lives in East Sussex in England, and is a former actress, having worked in the theater in London. She was also an actress on a soap opera for a few months in the 1990s.
After she got married and began raising a family, her acting career went "out the window."
Marie recalled how, at age 12, she had written to the Carmelites to declare her interest in joining them; but within a few years, began going in the opposite direction spiritually. "One thing led to another. I won't give you the gory details, but basically went into a materialistic, selfish, rather a dark phase, actually – a lot of heartache and a lot of causing of other people heartache." She had stopped going to church, but after she had her children, she came back. As she looks back now, she said it was a superficial way. She was happy for a while, but when her marriage ended, she said, "The divorce catapulted me to another dark place. And if I'm honest, I was pretty bitter and angry and resentful – the usual thing. Why me? Why me, God? The God I've come back to – why is this happening?"
After Marie got over the anger from her failed marriage, she began searching. "I've always been searching, but you could say, in the wrong places." At around age 18 or 19, she began searching for answers through astrology. She said she was involved in astrology for over 30 years, and towards the end, even had clients. Marie got deeper and deeper, through her interest in esoteric things, because of her curious mind. She said it was not called "New Age" when she started into this in her teens, but later realized that is what it was. She got involved in reiki and later, Shamanism. She got deeply involved in Eastern meditation techniques and relaxation techniques, including yoga. She also admitted to having a passing interest in crystals. "I really generally thought I could help people with this kind of stuff. That was my impulse."
One day, as Marie continued in her search, she picked up a book called Spark from Heaven by Mary Craig. The book cover said, "The Mystery of the Madonna in Medjugorje." She said she "was absolutely blown away by this," as she read about Our Lady's messages. She got very excited and began looking for other books about Medjugorje. Eventually she felt a desire to go to Medjugorje. When she attended an apparition of Our Lady to one of the visionaries, she said, "This was an extraordinary experience for me. I felt like a child, very overwhelmed by it in a good way." When she returned home, her rosary turned gold. She began to feel like a 12 year-old girl again, with her love of the Blessed Mother and other saints. She wanted to read saint books all the time. "I started to go to Mass every day, wanting to go to Mass every day, wanting to pray the Rosary and wanting to fast." Family members could not believe how different her life was. "People thought I was totally going mad, especially my children."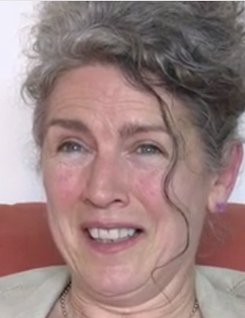 Marie Murphy
Marie said she came on a pilgrimage a year and half after these events. At this point, she was reading Scripture, praying the Rosary, and fasting. On this pilgrimage, she went to a talk given by Fr. Danko in the yellow building behind the church. She had no idea what the topic of his talk would be. "Then this big friar gets on stage and starts talking, with a rather stern face, I thought. I had my pen and pad all poised, all ready." But Marie was not prepared for the words she would hear Fr. Danko say: "Astrology – wrong! New Age stuff, reiki – no! Eastern meditation practices, tarot cards…"
Marie said he mentioned basically everything she was involved in and caught her by surprise. Although she was living most of Our Lady's messages, she had not given up her New Age practices, and was "quite happily, in a way still straddling the two worlds." "I suppose even though I felt I was more in the light, I was still having this little, I guess, addiction –
I think kind of an addiction for this other side of life. I got rid of other vices, addictions, but not this particular one."
When Marie went back to her room in Medjugorje, she saw the astrology books she had brought with her, so she guiltily put them in a drawer, out of sight. Then she thought, "Could it really be that this is so bad, really so wrong? I'm not a bad person." She kept having this conversation with herself for weeks after she returned from her pilgrimage. She continued to cling to her New Age practices because she thought it gave her a sense of security.
Marie eventually consulted with a "wise priest who pointed out a few things to me that needed pointing out to me." He pointed out that power is often the impulse behind New Age interests and that there is a "dark glamour" to it. Marie wasn't aware of the darkness at the time, but admitted there was definitely glamour to it. She began to realize that the New Age term "light worker" was actually a "dark light, a fake light, an illusory light, a misleading light." "If I'm consulting an astrology book to find out if it's a good day for this or that, or is the moon in that place … that is a ridiculous way to live. I wasn't trusting, truly trusting in the Lord. I wasn't truly surrendering myself."
After consulting with the priest, Marie decided to change her ways. "I decided for the first time in my life that I wanted to be obedient. I realized I'd been disobedient for decades and it hadn't made me happy at all – far from it." She found great joy in getting rid of all her New Age books. People asked her why she was destroying the books and not selling them, but she said, "It just felt wrong to do that. I just felt that God is – Jesus is – the Way, the Truth and the Life – not this stuff."
Marie said that this is the most joyful time of her life. If you watch her testimony, she is smiling the whole time, and I don't think that is the "actress" in her. She said that she now helps to promote Adoration by visiting parishes and doing presentations. "I can't imagine how I lived without it, this great beauty. Again, I was always looking for beauty and searching for beauty in all the wrong places."
Marie concluded her testimony: "Through Our Lady's messages and through what I've read and experienced here in Medjugorje, the heart is the center of it all. Love is the center of it all. Love is the key to it all. Without the heart, we can do nothing. We are nothing. Without God, without Jesus, we are nothing. It's taken me all this time to realize that. And I'm so grateful. I feel so blessed, and I'm so thankful to the Blessed Mother for all that I've been graced with. And I'm very excited! It feels like I'm on a great adventure – the beginning of a great adventure. So I love Medjugorje! I'd live here, except we have to go back home and spread the message…"
Editor's note: You can view Marie's testimony on Fruit of Medjugorje www.marytv.tv, episode #115. Note that Marie's conversion began by reading a book about Medjugorje. We are committed to spreading the messages, so if you would like a copy of our book, I Have Come to Tell the World that God Exists, to read and share, and cannot afford it, please let us know and we will send you a free copy. We do not sell anything, so if you want to buy it, it can be ordered from any bookstore or online.